Administrative Settings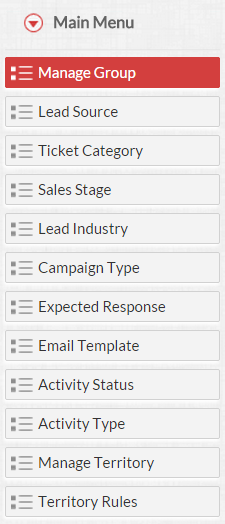 In eZnet CRM, the all-access Administrator has control over all the functions of the users. They can modify, activate and deactivate various options by using the action items available in each menu. The individual has the ability to add options available for other users in the modules below.
Each tab represents a module in CRM that can be modified by those with permission.
Example: Lead Industry list includes IT, Media, Retail, Hospitality, etc.

A user with permissions, may add/delete a Lead Industry item, that will be available for other users to manage.

Territory
A territory is the division of the sales structure by which customers' accounts are grouped and shared with the sales people of an organization. Territories can be based on various factors such as geography, industry, product line, expected revenue, verticals, etc.
Manage Territory
Territory Management is a function by which customer accounts and users are grouped based on a defined geographic criteria. This makes it easy to share customer accounts among different sales teams in your company.
Add Territory
Users with an Administrator profile can create Territories. Territory managers also have the default privilege to create sub-territories.
You can also activate and deactivate territories as needed.
Territory Rules
Territory rules identify the sub-territories and Territory Manager. Creating territory rules requires the administrator to specify criteria, based on which territories are assigned to accounts.

The screen above demonstrates the window where you can delete/view details and assign sub-territories to sale personnel.
---
* To know more about how eZnet CRM works, SIGN UP FOR FREE.